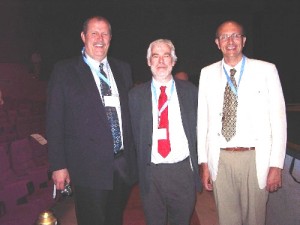 The European Crystallographic Association has awarded the third Max Perutz Prize to Prof. David Stuart>
The third Max Perutz Prize of the European Crystallographic Association for 2007 is awarded to Prof. David Stuart in recognition of his impact in the field of virus crystallography. Prof Stuart is based at The Wellcome Trust Centre for Human Genetics in Oxford, UK
His research on virus structure, assembly and interactions with receptors not only includes detailed work on some of the most complex and relevant macromolecular assemblies currently amenable to crystallographic study, but also aims at developing vaccines and treatments of diseases.
He performed exceptional experiments in determining the largest crystal structures ever solved: viruses of 100Mda. His work is extensive and he has published more than one hundred papers in the past decade, seven of them in Nature and six in PNAS. Eight of these papers have been cited more than 100 times.
In summary, David Stuart is one of the pioneers of virus crystallography in the world and the ECA Prize 2007 is in recognition of his impact in this field, and his contributions to the structural chemistry of disease at the atomic level.