The ECA kindly invites you to the 16th ECA Lunch webinar: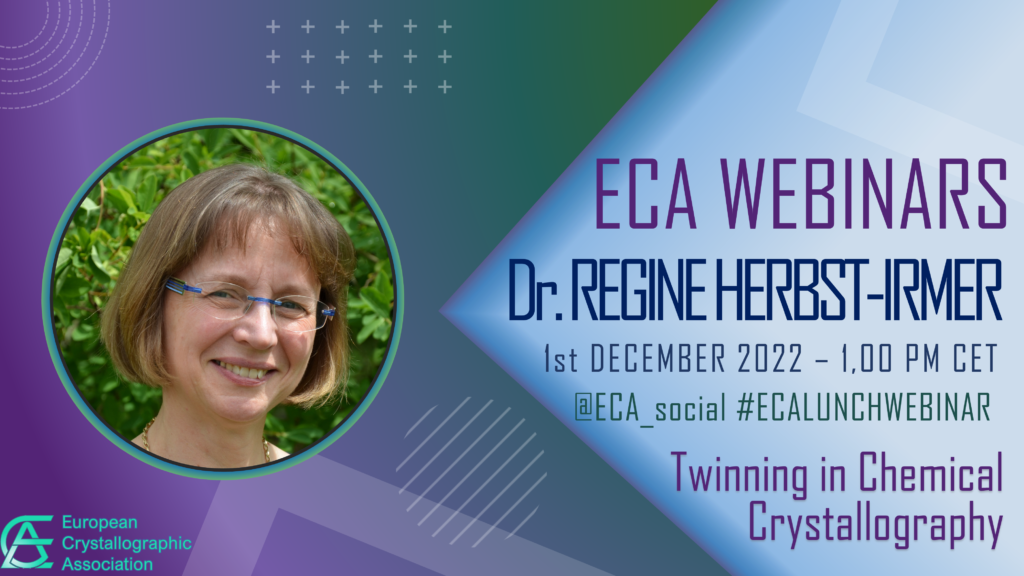 Abstract
A non-negligible percentage of crystal structures in chemical crystallography is derived from twinned crystals. The treatment of these data is dependent on the type of twinning. Twins by strict, pseudo or reticular merohedry may hamper space group determination and structure solution, while non-merohedral twins mainly hinder the data integration process. These different types will be explained in detail and examples for all types will be presented.
"""""""""""""""""""""""""""""""""""""""""""""""""""""""""
"""""""""""""""""""""""""""""""""""""""""""""""""""""""""
About the ECA Lunch webinars:
The ECA lunch webinars with an educational or scientific focus were invented following the strong wish to strengthen and vitalize the European crystallographic community. They are a monthly webinar series by the European Crystallographic Association (ECA) and involve all GIGs/SIGs.
The webinars are organized in an online setting such as Zoom (45min + 15min Q&A) and take place every first or second (depending on the schedule of other ECA activities) Thursday of a month at lunchtime (1:00 PM CET). Webinars will be announced via social media, mailing list, and here.
The webinars are organized by a steering committee of GIG01-members:
Breternitz, Joachim
Gaidamaka, Anna
Germann, Luzia
Hans, Philipp
Mazzeo, Paolo P.
Morana, Marta
Pisacic, Mateja
Prencipe, Michele
Advisory board:
Heinemann, Udo
van der Lee, Arie