The ECA kindly invites you to the 19th ECA Lunch webinar: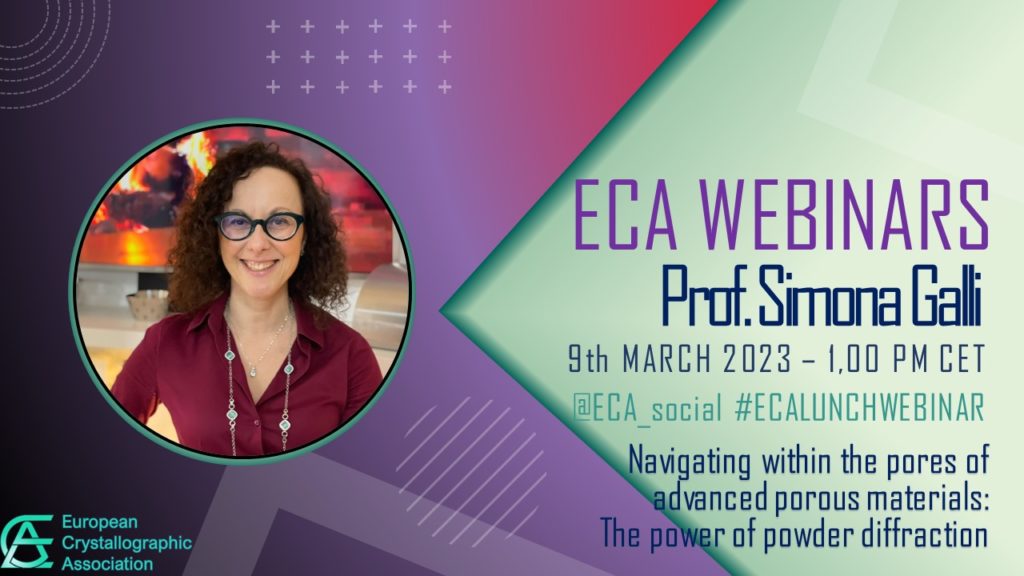 Abstract
The functional properties that a crystalline solid possesses depend not only on its chemical nature, but also on its crystal and molecular structure. By means of recent cases of study selected within the realm of metal-organic frameworks and covalent organic frameworks, the talk will demonstrate that (in situ) powder diffraction, exploited in the lab or at large scale facilities, is a powerful tool to unveil key structure-property relationships, thus enabling to rationalize the bulk properties under investigation with a molecular-level insight.
"""""""""""""""""""""""""""""""""""""""""""""""""""""""""
"""""""""""""""""""""""""""""""""""""""""""""""""""""""""
About the ECA Lunch webinars:
The ECA lunch webinars with an educational or scientific focus were invented following the strong wish to strengthen and vitalize the European crystallographic community. They are a monthly webinar series by the European Crystallographic Association (ECA) and involve all GIGs/SIGs.
The webinars are organized in an online setting such as Zoom (45min + 15min Q&A) and take place every first or second (depending on the schedule of other ECA activities) Thursday of a month at lunchtime (1:00 PM CET). Webinars will be announced via social media, mailing list, and here.
The webinars are organized by a steering committee of GIG01-members:
Breternitz, Joachim
Gaidamaka, Anna
Germann, Luzia
Hans, Philipp
Mazzeo, Paolo P.
Morana, Marta
Pisacic, Mateja
Prencipe, Michele
Advisory board:
Heinemann, Udo
van der Lee, Arie