The ECA Executive Committee met for its annual Winter Meeting at SOLEIL over the weekend of February 28th to March 1st. Three colleagues who could not travel due to the Coronavirus crisis joined via Skype.
In addition to the day-to-day business of the Committee, considerable time was devoted to discussing a new draft of the ECA statute which will be presented to the ECA Council at its meeting in Prague at the 25th IUCr Congress and General Assembly. It was noted that a statute change will require the presence of two thirds of the Councillors at the Council meeting. We take the opportunity to urge all representatives of national, corporate affiliate and individual members of ECA to be present at the Council meetings in Prague.
On behalf of her co-organizers Kristina Djinovich-Carugo and Ronald Miletich, Klaudia Hradil presented the final report on ECM32 in Vienna (2019). With 1016 registered participants from 48 countries, 17 plenary and keynote lectures, 48 microsymposia and 15 satellite meetings (404 participants) ECM32 was a great success and an impressive display of the avidity of crystallography in Europe and beyond. Klaudia received the warm applause on the success of ECM32 which she will share with everybody involved in organizing and running this wonderful event.
Executive Committee members were given the opportunity to visit the venue of ECM33 in Versailles in a spectacular location right next to Versailles Palace. They expressed their thanks to their hosts Jean Paul Itié, Sylvain Ravy and Andrew Thompson from the ECM33 organizing committee who made their stay at SOLEIL and Versailles a pleasant one.
Upcoming IUCr event
25th IUCr Congress and General Assembly in Prague, August 13-22, 2021
Upcoming European Crystallographic Meetings
ECM33 in Versailles, August 23-27, 2022
ECM35 in Padova,  August 2024
Upcoming European Crystallographic Schools
ECS6 in Budapest, July 2021
ECS7 in Lisbon, 2022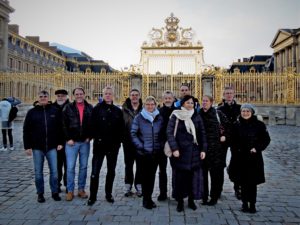 Members of the Executive Committee and ECM organizers in front of Versailles Palace, just a few steps from the venue of ECM33 in 2022.
Photo by Laure Dellagiustina