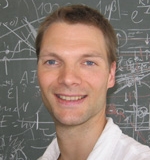 The prize committee set up by the two associations has decided unanimously to award the first Lewy-Bertaut prize to Henrik M. Rønnow.
Henrik M. Rønnow has a brilliant track record that illustrates a truly successful career of a young European scientist. His work has concentrated on experimental and theoretical aspects of quantum magnetism (spin dynamics in the two-dimensional magnet CFTD, in copper germanate as well as high Tc cuprates). He has also been involved in development of neutron instrumentation as well as simulation and data analysis software. Despite his yet early career, he has contributed significantly to neutron scattering science and he has become a renowned expert in the polarized neutron scattering techniques. His major publications in the highest ranking journals are frequently cited and brought up considerable esteem among the peers.
After a thesis work at the University of Copenhagen, followed by a post-doctoral period with international mobility (Grenoble, France; Princeton&Chicago, USA) Henrik Rønnow spent some time at the Neutron Scattering Laboratory of ETH-Zürich and Paul Scherrer Institute, and has now settled at the Ecole Polytechnique Fédérale de Lausanne (Switzerland) where he holds a tenure track professor position and continues to contribute to the progress of neutron scattering science in Europe.
The award ceremony will take place June 28th at the occasion of the European Conference on Neutron Scattering in Lund, Sweden. The winner of the award will give a presentation that will be preceded by a brief account on the life and scientific career of the late Erwin Felix Lewy-Bertaut, given by Prof. Hartmut Fuess, former chairman of the European Crystallographic Association and student of Lewy-Bertaut in the e60s.